Waterproof Flooring in Sand City, CA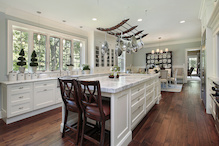 Are you in search of an affordable way to upgrade the style and resilience of your home's floors? Visit our company to choose from a full selection of waterproof flooring in Sand City, CA. We carry a wide variety of tile shapes, sizes, colors, and textures, so we feel certain that you'll find something to suit your needs. Visit our showroom to check out our luxury vinyl, tile, waterproof flooring, and other flooring styles. Whether you're updating the flooring in your kitchen, laundry room, bathroom, or the entire house, you can find everything you need to complete your renovation or remodeling project on time.

Benefits of Waterproof Luxury Vinyl Tile Flooring
Over the past few decades, tile flooring has become a popular material to use throughout the entire house. Due to its versatile appearance, waterproof luxury vinyl tile is a suitable choice for any interior décor style. Whether you prefer a classic and elegant appearance with marble-look tile or a comfortable and traditional hardwood style, you're able to find the best flooring to suit your preferences.
In addition to its versatility and wide range of styles, vinyl and laminate waterproof flooring are very easy to maintain. Whereas carpet and hardwood floors require extensive maintenance and regular deep cleaning, vinyl and laminate only require periodic sweeping and mopping, with special care not to be exposed to direct sunlight for extended periods of time.
Waterproof Bathroom, Laundry Room, and Kitchen Flooring
While waterproof floors are perfect for any room in your home, they are most beneficial in rooms like the kitchen, bathroom, and laundry room. Because these rooms typically have high levels of moisture and humidity, it's important to choose a durable and long-lasting flooring material that is able to resist water damage. When it comes to bathroom, kitchen, and basement flooring, we highly recommend choosing waterproof laminate or vinyl.
Prevent Water Damage with the Right Flooring Choices
If you have a finished basement, waterproof basement flooring means you don't have to worry about water damage after heavy rain or flooding. On the upper floors, lightweight waterproof flooring prevents water damage in the event of a leaky roof or high humidity. Visit our showroom to peruse our selection of waterproof floors and discuss your project with a knowledgeable employee.
Contact us to choose from a wide selection of waterproof flooring. We serve residential clients in Sand City, Monterey, Seaside, Marina, Carmel By the Sea, Pacific Grove, Pebble Beach, and Salinas, California, and the surrounding areas.