Luxury Vinyl Flooring in Sand City, CA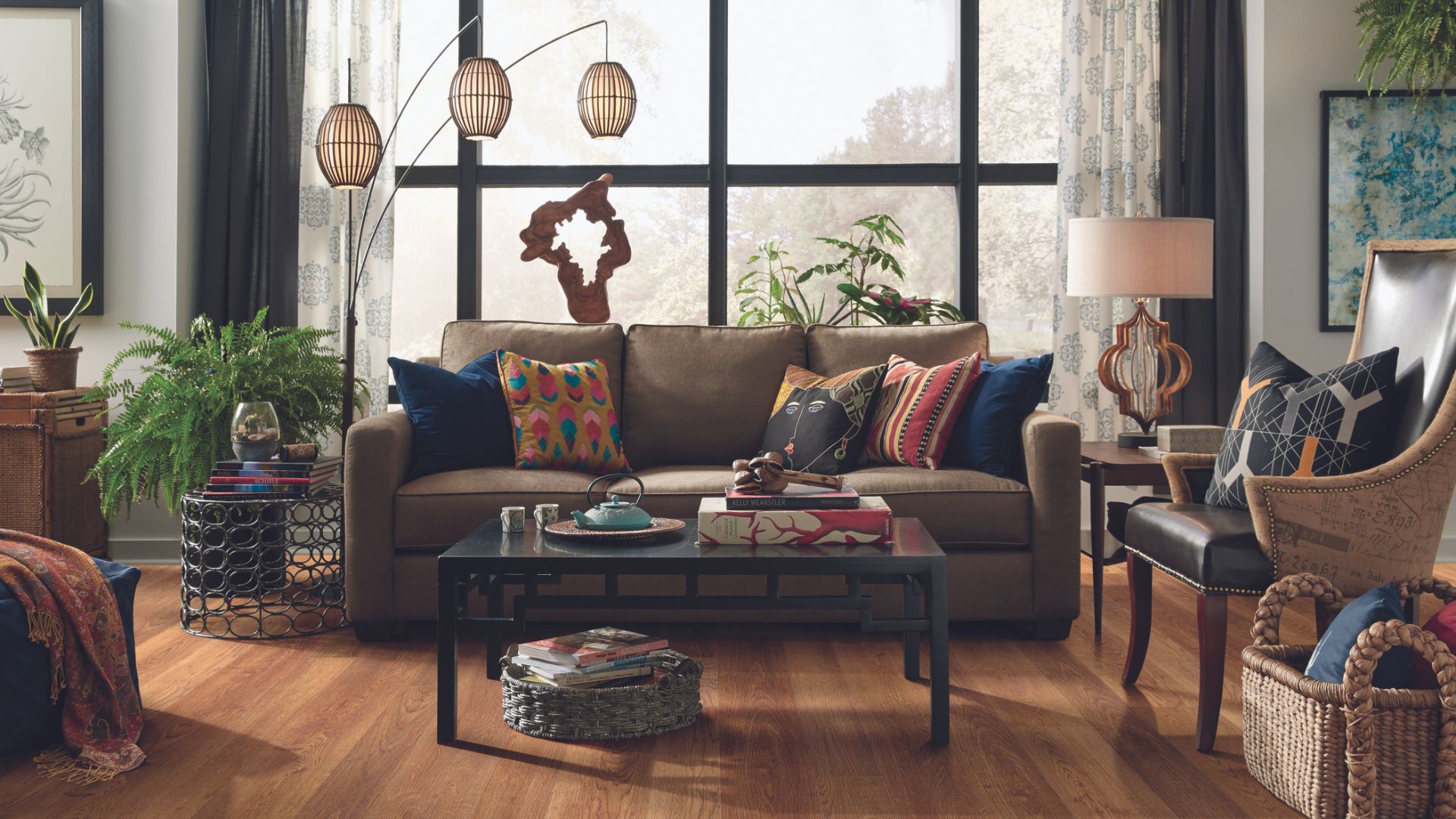 Ready to transform your living space with stunning new floors? Come visit us at Floor Store USA's Flooring America in Sand City, CA. Discover the ultimate blend of elegance and toughness with our remarkable luxury vinyl flooring options. Unveil a world of possibilities as you explore our diverse range of vinyl styles and designs, guided by our knowledgeable flooring specialists.
Step into our expansive showroom, where your dream floors come to life. From the timeless allure of white oak luxury vinyl planks to the charm of textured grain patterns, we have it all. Looking to redefine your kitchen? Our luxury vinyl tile selection promises the look of porcelain and ceramic tiles, all while keeping your budget in check.
Upgrade your space effortlessly with vinyl floors that harmonize beauty and resilience. At Floor Store USA's Flooring America, we're not just about flooring – we're about crafting experiences. Visit us today and let's embark on this exciting journey to revitalize your home's design.
Types of Luxury Vinyl Flooring
When it comes to luxury vinyl flooring, two popular options dominate the market: luxury vinyl tile (LVT) and luxury vinyl plank (LVP). Both choices are designed with dense layers to replicate the authentic look of hardwood or ceramic tile, providing you with the elegance you desire. Let's take a closer look at each option:
LVP: Luxury vinyl plank flooring perfectly mimics the appearance of real wood, offering the timeless beauty of hardwood floors without the high maintenance and cost. With a wide range of styles, colors, and textures, you can choose from classic oak to modern maple, ensuring a seamless fit with your interior design. Each plank is thoughtfully designed to fit together, creating a natural-looking and inviting atmosphere in any room.
LVT: For those who desire the charm of natural stone or ceramic tile, luxury vinyl tile is the ultimate solution. LVT offers a diverse array of options, including slate, travertine, marble, and more. With LVT, you can achieve the luxurious look of real stone or tile flooring while enjoying the comfort and warmth that vinyl provides underfoot. It's the perfect blend of elegance and practicality.
The Benefity of Luxury Vinyl Flooring
When you choose luxury vinyl flooring for your home, you're not just investing in a visually appealing surface; you're also gaining a wide range of benefits that make it a smart choice for any household. Here are some compelling reasons to consider luxury vinyl flooring for your next project:
Durability & Resilience: Luxury vinyl flooring is engineered to withstand the test of time. Its multi-layered construction makes it highly durable and resistant to scratches, dents, and stains. Whether you have active kids, pets, or heavy foot traffic, luxury vinyl flooring can handle it all, ensuring your floors stay beautiful for years to come.
Waterproof & Moisture-Resistant: Unlike hardwood flooring, luxury vinyl is waterproof and moisture-resistant. This characteristic makes it an excellent choice for areas prone to spills and dampness, such as kitchens, bathrooms, and basements. Say goodbye to worries about water damage and enjoy the peace of mind that luxury vinyl flooring provides.
Easy Maintenance: Keeping your luxury vinyl floors looking pristine is a breeze. Regular sweeping and occasional mopping with a mild cleaner are all it takes to maintain their lustrous appearance. The protective top layer of luxury vinyl also repels dirt and dust, making it an excellent option for those with allergies or respiratory sensitivities.
Comfort & Noise Reduction: Luxury vinyl flooring offers a cushioned surface that adds comfort underfoot. It also absorbs and reduces noise, providing a quieter living environment compared to hard surfaces like tile or hardwood. Whether you're walking, running, or simply going about your day, luxury vinyl ensures a peaceful ambiance in your home.
Cost-Effectiveness: Luxury vinyl flooring offers an affordable alternative to traditional hardwood or stone flooring, making it an excellent choice for budget-conscious homeowners. You can achieve the look you desire without breaking the bank, all while enjoying the numerous benefits luxury vinyl provides.
Choosing From Our Luxury Vinyl Flooring Selection
When it comes to selecting the right floors for your lifestyle, our flooring experts can help you navigate our vinyl floor collection. As a local flooring store and a part of Flooring America, we have access to the best vinyl flooring brands in the industry at prices that are easy on your wallet. Our selection includes Coretec luxury vinyl which is one of the top brands in the industry. Coretec vinyl looks and feels just like real wood and is 100% waterproof, making it the best choice for the more moisture-prone areas of your home. We proudly carry other great luxury vinyl brands like Downs, Galvanite, Medallion, and more.
Professional Luxury Vinyl Flooring Installation
We recommend that you hire our professionals to install your vinyl flooring because you don't want to gamble your investment on an inexperienced installer's mistakes. Our professionals are well-versed in our product lines and will arrive with the best practices and industry-grade equipment.
Our luxury vinyl floors are easy to install with a click-and-lock system that allows you to begin living on your brand new floors almost instantly. With our Ultimate Confidence Guarantee, we guarantee a fast installation and total satisfaction. If you're not satisfied with your new floors, we'll replace them for free with a comparable product within 30 days of installation.


Begin your journey to beautiful new vinyl floors by contacting us today. We proudly serve residential clients in Sand City, Monterey, and the surrounding areas.