Explore Versatile Vinyl Flooring in Sand City, CA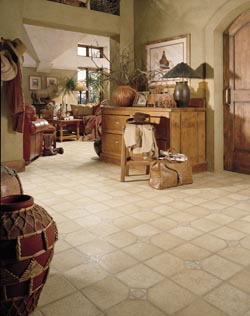 When you are tired of spending your personal time and money to keep your home's floors in good condition, it's time to make a change. Floor Store USA can help. Visit our showroom to explore vinyl flooring in San City, CA, and discover the difference this unique material can make in your approach to cleaning and home maintenance. We carry several different varieties, including tile, sheet, and plank.


Vinyl Makes Life Simpler
With vinyl floors in your home, you'll never have to worry about refinishing, resealing, and other maintenance tasks that characterize other flooring materials. Vinyl is durable, scratch-resistant, and moisture-repelling (when properly installed). That means you'll spend less time struggling to keep up with its care, and more time enjoying your beautiful new floors, as vinyl does indeed come in many styles.
Vinyl Tile Flooring: When you're thinking of redoing your kitchen or bathroom's floors, you don't have to choose traditional tile. With vinyl tile, you can bring both resilience and style into your home--as well as water-resistance that rivals ceramic and porcelain.
Vinyl Sheet Flooring: Installation is a breeze when you choose vinyl sheet over other types of vinyl. It's unique in that, with the right installation contractors, it's generally seamless and makes a large expanse of uninterrupted colors or patterns.
Vinyl Plank Flooring: Now you can enjoy all the classic beauty of hardwood with none of the maintenance or cleaning hassles. Vinyl plank imitates the appearance of real wood, but is much more long-lived with less care. Plus, you can even install it in your basement.


Choose Installation by Skilled Professionals
One of the most important parts of shopping for vinyl floors is securing installation services from contractors you trust. At Floor Store USA, we believe that the best way to ensure your floors last for years to come is by opting for vinyl flooring installation by skilled professionals. That's because we know that professionals alone have the skills and equipment needed to properly install finicky vinyl products.
To get the most from your new vinyl floors, be sure to talk with our showroom staff about your particular needs. We're happy to schedule installation services with contractors we trust, so you can start enjoying your new flooring as soon as possible. Plus, you'll have the peace of mind that comes with knowing you won't face any installation-related issues years down the road.



Contact us or stop by our showroom to learn more about the benefits of vinyl flooring. We proudly serve residents of Sand City, California, and nearby areas.