Laminate Flooring in Sand City, CA
Expand your home design options with attractive and affordable laminate flooring at The Floor Store USA. Allow us to expand your design options by providing you with the perfect laminate to suit your needs in durability, style, and budget. With a wide laminate selection that constantly updates, you are guaranteed to find the color, patterns, and style that suit your personal desires. From wood-look laminate in the living room to a gorgeous laminate tile bathroom, we will find the floors that meet your needs in appearance, performance, and price.
At The Floor Store USA, our friendly team is equipped to help you every step of the way, from choosing the proper material, fine-tuning design plans, and executing a flawless laminate flooring installation. Visit our Sand City, CA showroom to start the journey towards your dream floors!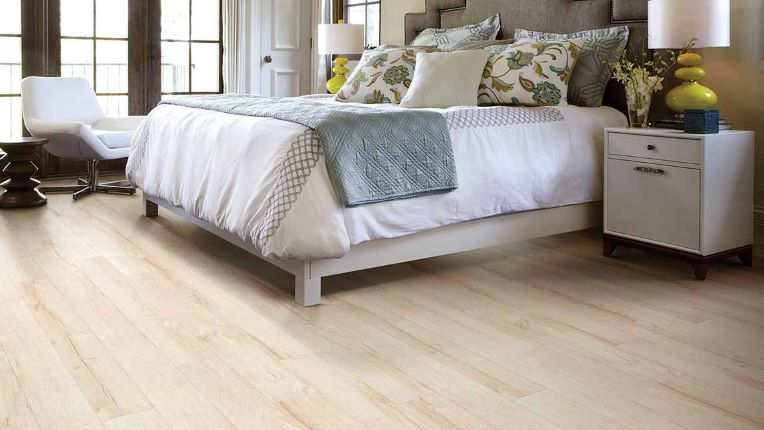 Find Stylish Laminate Flooring Selections
Every year, The Floor Store USA updates our entire catalog in order to make sure we are always in line with the latest trends in the design industry. Our goal is to stay up-to-date with the looks Sand City customers want in their modern homes while offering timeless classics. We carry industry-leading laminate brands including FloorCraft, Inhaus, Quick Step, Mohawk, Shaw, and more.
The designers we keep in-house are experts in the field, studying the latest trends and carefully selecting every new batch of flooring shipments. That way, we always have exactly what you're looking for when it comes time to purchase a new laminate floor!
What is Laminate Flooring?
A popular hardwood or tile flooring alternative, laminate sports a luxurious appearance that maximizes durability with four distinct layers:
The base layer protects against moisture and a sturdy core stabilizes to withstand heavy foot traffic.
The decorative layer allows for a variety of patterns that can realistically mimic wood or stone.
Lastly, the wear layer is typically compounded with melanin resin and aluminum oxide; elements that protect your floor from stains and other markings.
Types of Laminate Flooring
Whether you know exactly what type of laminate you desire, or need help defining your style, we are here to help. Simply come in and give us an idea of your home's current style and the look you are trying to achieve, and we'll dispense expert advice. Discover the types of laminate flooring we carry:
Wood Look Laminate Flooring - Crafted to mimic the look of real hardwood, laminate wood flooring is a much more affordable and resilient hardwood alternative. Great for kitchens and bathrooms, laminate wood is water-resistant and can be installed in any room in your home.
Tile Look Laminate Flooring - If you desire a gorgeous natural stone, ceramic, or porcelain look, but need an oops-proof floor to withstand your active household, laminate tile flooring offers the upgrade in style your home deserves without a hefty price point.
Benefits of Laminate Flooring for Your Sand City Property
With laminate's layered composition, it offers customers a perfect marriage between style and function. Discover all the benefits of laminate flooring:
Due to its low cost, laminate is a fantastic choice for larger homes or commercial office spaces
High durability for active households with water resistant & scratch resistant capabilities
Designed for ease of maintenance, leaving Sand City homeowners worry-free as accidents and spills can easily be wiped up or swept away.
Laminate installation is swift and hassle-free
Offers an authentic feel of tile or hardwood flooring
Perfect for landlords looking for an affordable way to spruce up a rental or homeowners who want an upgraded look with a cost-effective product.
What's The Difference Between Laminate Flooring and Luxury Vinyl Flooring?
Laminate flooring and luxury vinyl flooring are two of the most popular flooring materials currently on the market–and for good reason. Each of these planks is composed for maximum durability with stunning wood and tile looks. However, they each boast their own unique advantages:
Laminate flooring is composed of a wood-byproduct core that contributes to its durability, stability, and lower cost. While laminate resists water, its wood core is not completely waterproof.
Luxury vinyl flooring is composed of a rigid core that's completely waterproof. This gives customers added peace of mind in high-moisture areas like bathrooms, basements, laundry rooms, and more. Luxury vinyl floors tend to be slightly more costly than laminate.
Expert Laminate Flooring Installations
New floors are an important investment, and we strive to provide only the best products paired with precise installation services. In order to ensure you get the best return on said investment, depend on our team of qualified laminate flooring installation contractors for help. Properly installed laminate floors resist moisture, stains, and heavy foot traffic, lasting for years down the line. Let us provide you with swift, efficient installation services to guarantee that your money was well spent. With our Ultimate Confidence Guarantee, you can give us a call within 30 days of installation should you be dissatisfied, and we will replace your floors at no extra cost to you. Ready to get started?
Contact us today for a free design consultation to get the perfect style of laminate floors for your home. We proudly serve Sand City, Monterey, Seaside, Marina, Carmel By the Sea, Pacific Grove, Pebble Beach, and Salinas, California, and the surrounding areas.