Hardwood Flooring in Sand City, CA
Make your home stand out for all of the right reasons when you take advantage of the benefits of hardwood flooring at The Floor Store USA. Wood is naturally beautiful and durable, making it an ideal material for several surfaces. Today this material is a particularly popular choice for rooms of all sizes and design themes. When you are ready to upgrade the outdated flooring throughout your home, you can't go wrong by choosing an option like hardwood floors.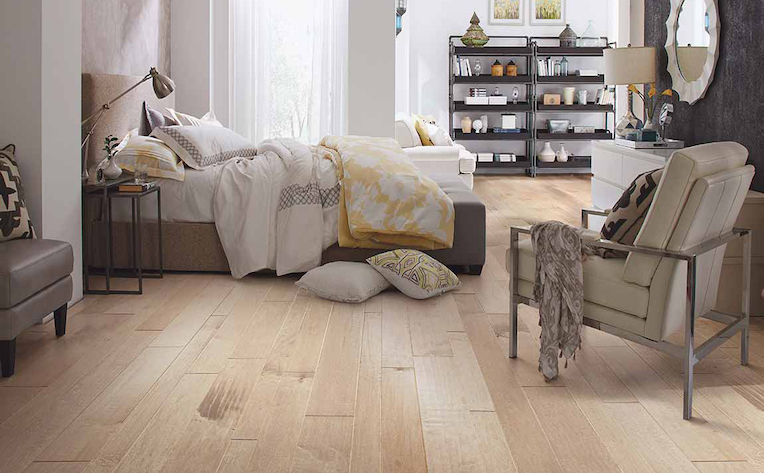 As one of the area's leading flooring stores, we boast an inventory of the industry's highest-quality hardwood planks. Our team of professionals is committed to providing you with the quality hardwood flooring you need at the best prices in the area. Visit our showroom in Sand City, California, today to browse our hardwood selection and discuss your project with our friendly flooring experts!
Types of Hardwood Flooring Available: Solid and Engineered
While many homeowners worry that hardwood floor styles are out of their price range, the truth is that this flooring material is available at price points that fit any budget. At our showroom, we proudly offer leading products at competitive rates. By shopping with us for your materials, you will find something you love for every room.
Hardwood floors can be divided into two major categories: solid and engineered. As the name implies, solid hardwood is made completely from genuine wood in one solid plank. Engineered hardwood is specially constructed using different layers of wood that are fused into a single plank and boast a thin top veneer of real wood. Both types have their own unique advantages.
Solid Hardwood Flooring
Solid planks offer an unmatched, distinguished character. You will feel great knowing that your home's floor is genuine wood from top to bottom. In addition, solid planks can be sanded down and refinished over there lifespan, allowing you to switch up the look and refresh your floors. However, solid variants also tend to be more costly than engineered types and are more sensitive to changes in humidity and temperature.
Engineered Hardwood Flooring
Engineered hardwood flooring is specially constructed to last. Thanks to advances in hardwood technology, these planks do not expand and contract as the humidity and temperature levels fluctuate. Additionally, these surface-engineered products are virtually indistinguishable from solid types and offer the same natural beauty at a slightly lower price. To determine whether solid or engineered hardwood flooring is the right choice for your needs, talk to our sales associates.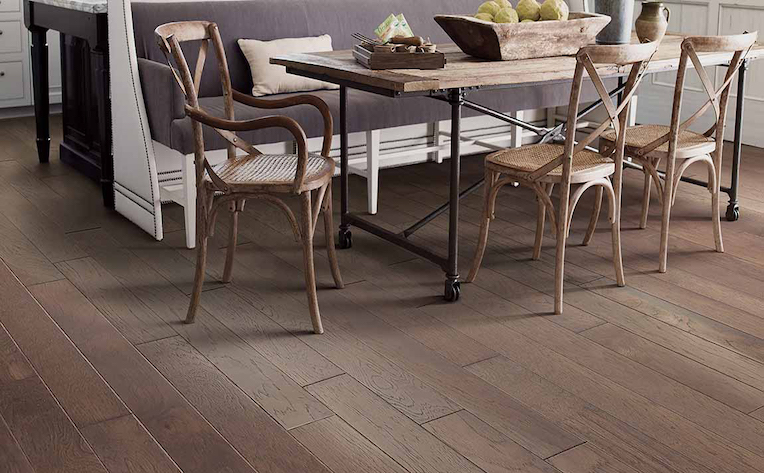 Benefits of Hardwood Flooring for Your California Home
As soon as you walk in the door, it becomes our mission to help you make a confident purchase in a single, swift visit. Our team is available to answer any questions you have about the hardwood floor styles in stock. Thanks to our nationwide 500-store buying power, we are pleased to source materials only from top manufacturers across the nation. You'll find trustworthy hardwood brands such as Floorcraft, Monarch, Inhabit, Mohawk, Mediterranean Collections, Reward, Aquadura H20, Downs, and much more. We take the time to educate you about all the benefits of hardwood, including:
Increases the value of your property.
Incredibly long-lasting with simple maintenance.
Timeless flooring material perfectly complements any interior design.
Durable and works well in high-traffic areas.
Engineered wood is built to withstand high moisture environments without worry of warping or cracking.
Eco-friendly and natural flooring material.
How to Clean and Maintain Hardwood Flooring
Customers often wonder how extensive the maintenance process is for hardwood flooring. The answer—it's easier than you may think! Hardwood flooring is extremely durable and can be finished with protective sealants to resist stains, scratches, and dents. For long-lasting beauty, follow our best hardwood flooring care tips:
Sweep or vacuum regularly.
Promptly wipe up spills with a damp cloth.
Dry mop using a manufacturer-recommended hardwood flooring cleaner.
Keep your pet's nails trimmed, avoid high-heeled shoes, and add protective pads to heavy moveable furniture.
For extra shine, occasionally apply a wood polish.
For solid wood flooring, maintain humidity levels per the manufacturer's instructions.
A Hardwood Flooring Installation You Can Trust
When it comes to a reliable hardwood flooring installation, look no further than our team. We understand that selecting the perfect hardwood floor styles for your space is just the beginning. Our professionals possess the knowledge and expertise required to bring your project to completion with finesse, regardless of the room's size. No matter which product you choose, our hardwood flooring installation services have got you covered.
Wood floors that stand the test of time necessitate more than just using high-quality planks. Professional installation is key to ensuring your new flooring can withstand wear and tear for years to come. When you opt for our services, you can rely on our team to deliver work you can trust. We are fully equipped to handle any hardwood flooring installation promptly and efficiently. Our contractors pay meticulous attention to detail, ensuring that your hardwood flooring installation is executed flawlessly.
At our core, we prioritize your satisfaction with our unparalleled Ultimate Confidence Guarantee. This guarantee covers every installation we undertake. If you encounter any installation-related issues during the lifespan of your floors, we take full responsibility and make it right at our own expense. Your peace of mind is our ultimate goal, and we always have your best interests at heart. Count on us to transform your space with a hardwood flooring installation that you can trust for years to come.

Contact us today to learn more about our hardwood flooring options! We proudly serve customers in Sand City, Monterey, Seaside, Marina, Carmel By the Sea, Pacific Grove, Pebble Beach, Salinas, California, and the surrounding areas.