Beautiful Cabinets in Sand City, CA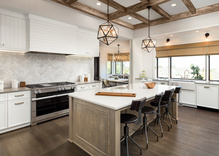 Steer your interior design in new directions at Floor Store USA. As your source for quality flooring and remodeling materials, we provide the products and resources you need to improve your home. Our showroom offers a wide selection of cabinets in Sand City, CA. Enhance the appeal and utility of your favorite rooms: From idea to installation, we're here for you.
Enhance Your Home's Appeal
Whether for the bathroom or kitchen, cabinets are a great investment for the home. They provide smart, intuitive storage space. At the same time, they seamlessly integrate with your interior design. At our showroom, we provide the references and assistance you need to design custom cabinets.
That's right: you can design unique cabinets when you order from us! Choose from a wide variety of styles from well-known manufacturers and brands like Omega, Dynasty, and Kepner. Our showroom features many options. Mix and match to create the right cabinetry for your kitchen, bathroom, or anywhere else that requires form and functionality in one, neat package.
The Personalized Approach to New Cabinets
From traditional aesthetics to modern chic, our showroom has the options you want--all while fitting your schedule and budget. We have teamed up with the leading names in the industry to provide a diverse catalog of cabinet systems. From materials and colors to doors and shelving, we can help you find the right configuration for your project.
We are committed to helping you get results. When you come to us for custom cabinets, you can take advantage of our extensive knowledge base. Our associates are well-versed in the prevailing trends in remodeling and interior design. In turn, you can discuss your project goals, and we'll make targeted recommendations based on your needs and preferences.
Are you planning on redefining your kitchen or bathroom completely? Complement your new cabinets with matching flooring! We are your source for new flooring. We can work with you to find new surfaces that will match your custom cabinets. Popular choices that go well with cabinetry include tile and luxury vinyl flooring.
Cabinet Installation by the Professionals
When they are properly installed, new cabinets will look beautiful and last longer. Ensure you get the most from your investment with our installation services. Our showroom coordinates with professionals to fit, measure, and place your new cabinets.
Our teams are well-trained and experienced in cabinet installation. We take all the necessary steps to ensure your purchase fits your home accurately. Thanks to our commitment to quality results and complete satisfaction, your remodeling project is in good hands.
Contact Us to request a consultation for custom cabinets. Our showroom proudly serves property owners throughout Sand City, CA, including the surrounding communities.