It's Time for New Cabinets in Sand City, CA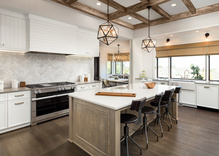 Don't settle for a bland looking kitchen, update with us! The perfect place to freshen the appeal of your kitchen is with your storage space. When you are ready to explore your options for cabinets in Sand City, CA, your first stop should be to Floor Store USA to explore the full range of custom cabinetry in our showroom. Our team can help you find the perfect cabinets to fit your design style so your kitchen looks exactly as you imagine it should. We are also proud to be your one-stop source for quality flooring and remodeling materials by providing you with the products and resources you need to improve your home. We offer homeowners options from well-known manufactures and brands such as Omega, KitchenCraft and Kemper.
Options to Fit Every Budget
Once you have decided it is time to upgrade the look of your kitchen, check out our options that can fit within your budget and time frame. You can paint or stain your kitchen cabinets for a quick fix, but if you really want a change, you can look at refacing or remodeling them. If you are looking to switch things up, this is where we can step in and help.
The difference between refacing and remodeling is simple: how much change is required or wanted? Refacing is a popular choice for many homeowners since the cupboard doors, drawer facing, and the hardware is all that is replaced. Remodeling is an option most people are familiar with. When looking at this option for your kitchen, all of your old cabinets are removed, and brand new custom cabinets are installed. Both options are great for any homeowner.

This may also be an excellent opportunity for you to raise or lower the height of your cupboards or ensure that the kitchen storage is better fitted to your house. Based on our experience and understanding of kitchen cabinetry, we can easily help you choose the best option for your home and family.
Invest in Your Upgrade
When you make an investment to improve the look of your home, you are improving its value. It makes sense to ensure you are making upgrades that will not only look good but last. Make sure you hire a professional for your cabinet installation if you have never done this type of work before.
Cabinet Installation by the Professionals
When they are properly installed, new cabinets will look beautiful and last longer. Ensure you get the most from your investment with our installation services. Our showroom coordinates with professionals to fit, measure, and place your new cabinets.
Our teams are well-trained and experienced in cabinet installation. We take all the necessary steps to ensure your purchase fits your home accurately. Thanks to our commitment to quality results and complete satisfaction, your remodeling project is in good hands.
Contact Us today to learn more about our cabinets in Sand City, CA. We serve residential clients in Sand City, Monterey, Seaside, Marina, Carmel By the Sea, Pacific Grove, Pebble Beach, and Salinas, California, and the surrounding areas.